The SCM 200 Skid Steer Mount Sweeper is designed for bucket replacement applications and is equipped with a manual Quick-Change Brush System, allowing the brush to be changed onsite in (approx.) 5 minutes. Additionally, this sweeper has a brush float system that is currently patent-pending. This model is used in a variety of ways, on construction sites, asphalt plants, raceways, warehouses, runways and more, the Skid Steer Mount Sweeper is sure to be an asset on any job site.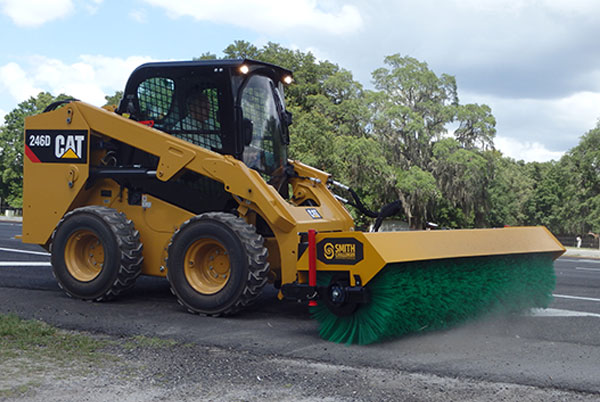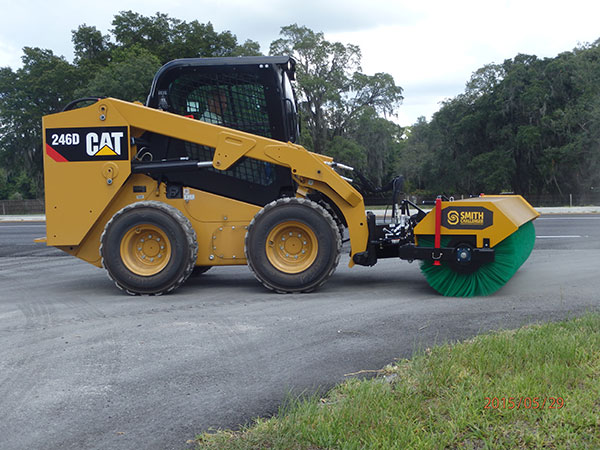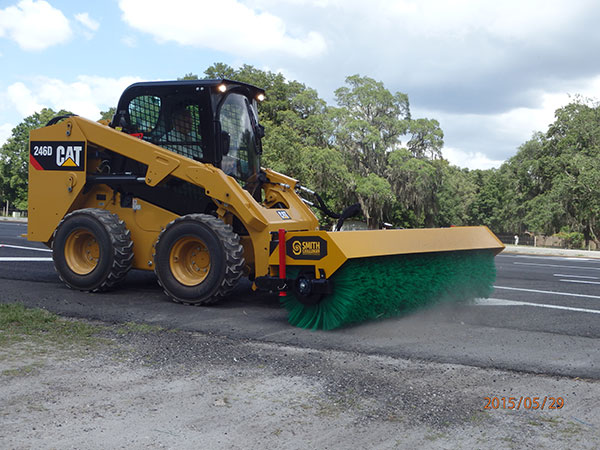 Special Features
• Unique Brush Float – Patent Pending
• Mechanical Quick Change Brush System
• Less than 5 minutes (approx.) to change the brush
request quote
Skid Steer Mount Sweeper – SCM 200 Details
The SCM 200 Skid Steer Mount Sweeper has a hydraulic brush drive, a sweeping angle of 40 degrees right and left (HYD), grease fittings, replaceable bushings, a brush length of 77.5 inches, a brush diameter of 31 inches and a dirt deflector.  Additionally, a brush hood extension and an 89.5-inch brush length are available as options. At Smith Challenger Mfg., we can outfit a tractor to meet any customer's individual specifications, call us today—let us know your industrial sweeping needs and we will accommodate you accordingly.
Heavy Duty Construction for Long Life and Less Maintenance
Brush Drive Hydraulic
Hydraulic Sweeping Angle: 40 Degrees Right-0-40 Degrees Left (HYD)
Brush Length: 77.5″ (100% Poly or Poly Wire Combo)
Brush Diameter: 31″ Tube Style Brush
Grease Fittings and Replaceable Bushings / Bearings
Dirt Deflector
Skid Steer Mount Sweeper – SCM 200 Options
Brush Hood Extension
89.5″ Brush Length
This product has not any reviews yet