The SUPER BROOM SCM 400 Self Propelled Sweeper is designed to be the most innovative self propelled sweeper on the market.  The features were designed with years of industry experience.  From the visibility in the cab to the accessibility and ease of engine maintenance, the SCM 400 self propelled sweeper is an all around valuable asset to road construction projects, including milling operations, road resurfacing, airport runways, and a variety of other construction site needs.
Special Features
• Brush Float System (Patent Pending)
• Enhanced visibility front & rear
• 74 horsepower tier 4 final engine
request quote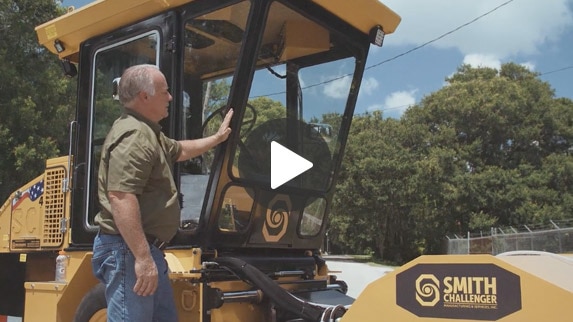 SUPER BROOM – SCM 400 – Self Propelled Sweeper Details
Powered by a Kohler 74 HP Tier 4 Final Engine the SUPER BROOM SCM 400 weighs in at approximately 8200 lbs and has an overall length including the brush assembly of 16'6".  Enhanced visibility from the front and rear of the cab, and a self contained A/C unit with heat add user comfort.  Featuring an easy cab clean out design and cab tilt for easy maintenance, a brush variable speed control allows the operator to be in control of the sweeping operation.  With many features patent pending including the brush float system, which greatly extends the life of the brush.
Unmatched Heavy Duty Construction
Original Quick Change Brush System
Weight: Approx 8200lbs
Wheel Base: 78″ (6'5″)
Overall Length: 198″ (16'6″) Including Brush Assembly
Overall Width of Power Unit: 68.5″ (5'8″)
Overall Height to top of A/C Unit: 105″ (8'9″)
Overall Brush Frame Width: 95″ (7'11")
74 HP Tier 4 Final Engine
77.5″ Brush Length
Forward Work Lights x 2
Rear Work Light x 2
Air Conditioner
Rear Steer
Fuel Gauge
AMP Gauge
100 AMP Alternator
Engine Temperature Gauge
Oil Pressure Gauge
Tachometer
Beacon
Two Speed Wheel Motors
Hydrostat Transmission
Service Brakes
3-Way Braking System
35 Gallon Hydraulic Oil Capacity
35 Gallon Fuel Capacity
Sliding Door Windows x 2
Mechanical Joy Stick
Forward and Reverse Pedals
Heavy Duty (3/8″plate) Fenders
60″ Turning Radius
Backup Alarm
Side Mirrors
40 GPM Oil Cooler
Brush Float System (Patent Pending)
Hydraulic Parking Brake
Front Dirt Deflector
SUPER BROOM – SCM 400 – Self Propelled Sweeper Options
100 Gal. Water Mist System / Integrated Water Tanks
Brush Side Shift 24″
Rear Integrated Box Blade
Rear Scrape Blade (Mechanical Angle)
Rear Scrape Blade (Hydraulic Angle)
Rear Scrape Blade (Hydraulic Angle and Side Shift)
Rear Blower -High Flow Pump (required with Rear Blower)
89.5″ Brush Length
Wind Shield Wiper
Backup Camera
 Spare Tire
Deluxe Seat
Single Point Greasing System
Rear Dirt Deflector
Special Features
Side Work Lights x 4
Pressurized Cab
Air Filter Gauge
Hydraulic Temp Gauge
Easy A/C Maintenance
Easy Radiator Maintenance
Enhanced Visability Front & Rear
Self Contained A/C unit with Heater
Easy Cab Clean Out Design
Cab Tilt for Easy Maintenance Access
This product has not any reviews yet